Highlights
Feb 1982
This shows that the factory wasn't specifically for Dragon Data and had been empty for some time.
April 1982
First mention of Dragon Data as Mettoy makes an equiry to the WDA.
Oct 1982
The Dragon Data project is seen as viable. During the duration of Dragon Data's existance Mettoy were in financial difficulties.
Oct 1982 : The Memorandum
The 'memorandum' was the outline financials and proposal to the WDA for financing.

Interesting section on future projects. The Educational Unit was probably dropped after they lost the contract to supply UK schools to the Acorn BBC micro. The Business Machine could be a reference the Beta / Dragon 128 project, which was in the final development stages in early 1984, like the other projects here never got release. The "Future" project sounds like an interesting project but apart from Prestel being developed for the FarmFax machines and the Alpha prototype no other development info is known about this project.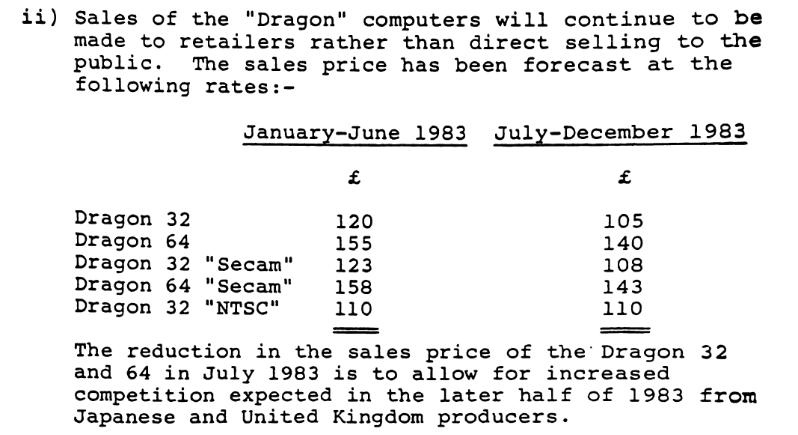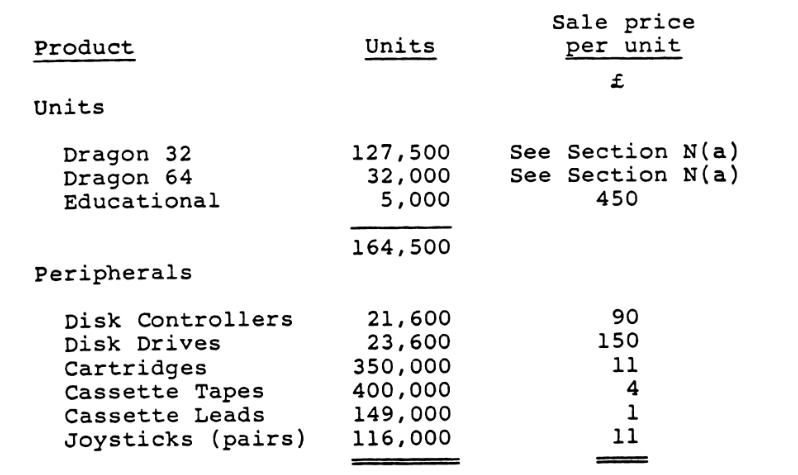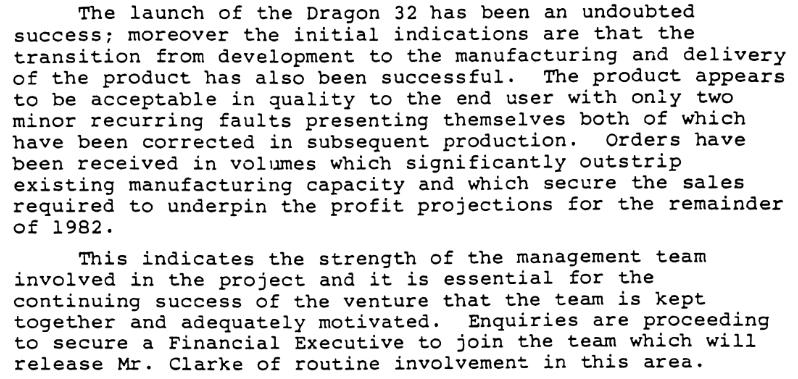 Nov 1982
Dragon Data confirmed at the Kenfig factory with an expected 100 jobs over the next 3 years.
Dec 1982
Jan 1983
Mettoy operating at break-even.
Jul 1983
Aug 1983
Sept 1983
Dragon Data first flaged as a problem client.
Nov 1983
29 Aug 18
GEC get involved.
Jan 1984
Feb 1984
Still a problem client as GEC take over marketing. It's quite probable that the "electronic writing pad" is what eventually become the Thorn EMI Liberator. The project was instigated in late 1983 by the UK Government's Central Computer and Telecommunications Agency, who originally contact Dragon Data to develop the computer. The Liberator development team included a number of ex Dragon employees.
Mar 1984
Dragon moves up to a major problem client, changes in managment and new markets.
April 1984
Serious problems for Dragon as they still continue to look expanding into foreign markets. No further information on the other proposed projects.



Extract from the WDA's portfolio summary:

May 1984
Receivers called in.



WDA seem pleased about the lack of press coverage of the Dragon Data failure and their involvement.