DRAGON 32 - Mid Style
"House" Picture Sleeve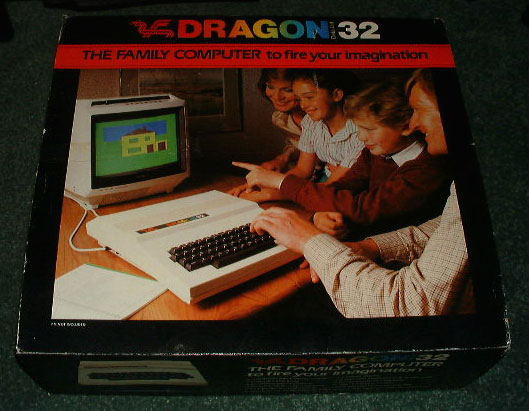 This appears to be Dragon Data's first attempt to improve on the plainer Dragon Logo sleeve. All I can say is that I don't think the house picture (taken from a manual example) on the TV is that inspiring and I can see why the later picture box with chess on the TV came about. Talking of the later style box, as the people in the picture and location look the same, it's quite probable that that both pictures where taken on the same photo shoot. By the fact that this style sleeve is the first I've seen in a year, it appears to be the less common of the 3 different box styles.

Archives own box shown.
Above is the serial number sticker.
It appears that this Dragon has had a hard life as it has had 3 different serial number stickers during it's life, along with 3 warranty stickers. If you look closely at the top of the sticker you can just see the edges of the other s/n stickers.

A nice box, but unfortunately the Dragon is dead, only displaying garbage on the screen. Can't complain though as it was quite a cheap purchase from ebay.