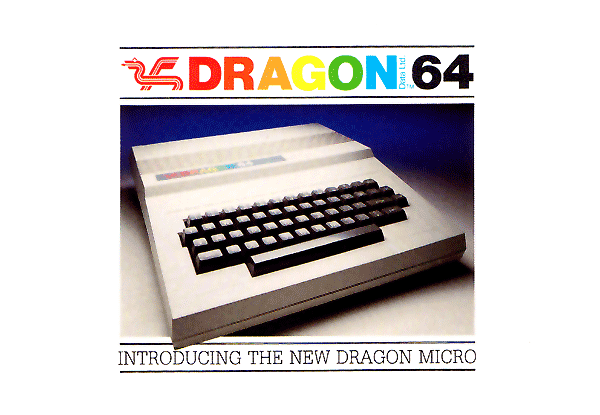 MORE POWER TO YOUR DRAGON

As computer technology continues to advance so does the power of your Dragon. Our new Dragon 64 provides a series of new exciting features while retaining all the desirable attributes of its forerunner the Dragon 32. It has been designed specifically for the fast growing number of people who want not only to be able to use their Dragon computer in the home but also as a business machine.
The new business software has been developed from professional software especially for the Dragon 64. Here are just some of the new features which will make your Dragon 64 a more than capable business machine, whilst not detracting from its suitability for entertainment and education in the home.



MORE MEMORY

With the variety of new software becoming available, the new Dragon 64, with its greatly enhanced memory capabilities, gives you the increased power and versatility to turn your machine into the true professional that it is. While normally in a 32K memory should prove more than adequate for the home user, occasions do arise when a larger memory is necessary. This is especially true when storing large quantities of data for business purposes. For this reason, the Dragon 64 is now equipped with a memory twice the size of the Dragon 32.
Whether you wish to use existing software or write your own, the three operating modes available allow you to choose from a wide range of tasks that the Dragon 64 can accomplish.
The '32K Mode' permits you to use 32K RAM. The '48K Mode' gives 48K of RAM while 16K is used to store the basic interpreter, allowing the full use of Microsoft BASIC, and a larger memory for the creation of your own software. The 64K mode enables the full use of the 64K which is essential for using the sophisticated operating system.



MORE ADD-ONS

As well as having the same parallel printer port as the Dragon 32, the 64 gives you a serial RS232C input and output port. This opens up to the Dragon 64 a completely new role in the world of computers. It allows your Dragon to communicate directly with other Dragon 64's, or any other micro which has an RS232C port. It is also possible for your Dragon 64 to be used as a terminal of a larger, mainframe computer, communicating via your telephone line RS232C port.
Of course it also allows you to connect your Dragon to a far wider range of printers and other peripherals, including plotters and electric typewrites - in fact, any piece of equipment which has an RS232C port. Those peripherials available at present to run on the Dragon 32, will operate just as successfully on the Dragon 64. Additionally, the PAL composite video interface allows connection to a high quality colour or black and white monitor.



MORE SOFTWARE

The reason that software writers have produced such an abundance of new software packages for this machine is due to the efficiency of the 6809 microprocessor used by Dragon Data, compared to the 8055 and 6502 processors preferred by some of our competitors. The 6809 contains many 16-bit registers which allow flexible address mode capabilities, making high level language implementation more practical.
The disk-based OS-9 operating system for the 64 opens up a whole new range of activities for the Dragon, giving access to a wide selection of business software, including packages for stock control, invoicing, accounting, payroll and even spreadsheet analysis.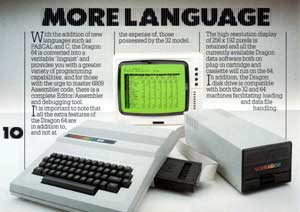 MORE LANGUAGE
With the addition of a new languages such as PASCAL and C the Dragon 64 is converted into a veritable 'linguist' and provides you with a greater variety of programming capabilities, and for those with the urge to master 6809 Assembler code, there is a complete Editor/Assembler and debugging tool.
It is important to note that all the extra features of the Dragon 64 are in addition to, and not, at the expense of, those possessed by the 32 model. The high resolution display of 256 x 192 pixels is retained and all the currently available Dragon data software both on plug-in cartridge and cassette will run on the 64.
In addition, the Dragon disk drive is compatible with both the 32 and 64 machines facilitating loading and data file handling.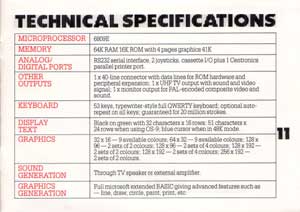 MICROPROCESSOR
6809E
MEMORY
64K RAM 16K ROM with 4 pages graphics 41K
ANALOG/
DIGITAL PORTS
RS232 serial interface, 2 joysticks, cassette I/O plus 1 Centronics parallel printer port.
OTHER
OUTPUTS
1 * 40-line connector with data lines for ROM hardware and peripheral expansion; 1 x UHF TV output with sound and video signal; 1 x monitor output for PAL encoded composite video and sound.
KEYBOARD
53 keys, typewriter-style full QWERTY keyboard; optional auto-repeat on all keys; guaranteed for 20 million strokes.
DISPLAY
TEXT
Black on green with 32 characters x 16 rows; 51 characters x 24 rows when using OS-9; blue cursor in 48K mode.
GRAPHICS
32 x 16 - 9 available colours; 63 x 32 - 9 available colours; 128 x 96 - 2 sets of 2 colours; 128 x 96 - 2 sets of 4 colours; 128 x 192 - 2 sets of 2 colours; 128 * 192 - 2 sets of 4 colours; 256 x 192 - 2 sets of 2 colours.
SOUND
GENERATION
Through TV speaker or external amplifier.
GRAPHICS
GENERATION
Full microsoft extended BASIC giving advanced features such as - line, draw, circle, paint, print, etc.
For further information contact:
DRAGON Data
Dragon Data Ltd., Kenfig Industrial Estate, Margam, Port Talbot, West Glamorgan, SA13 2PE.
Download the brouchure - 3.7MB PDF
Many thanks to Gareth T. the owner of the brochure.